ARITA 2 rod electric heater has 2 heating levels.Flip StandHas anti-droop down and shake safety functionPortable SizeContains rotary switch type and easy to controlPresence of safety mesh grid protectionEconomical to useVoltage range is 220-240v ~ 50Hz1 Year Warranty..
ARITA 3 Rod Halogen Heater has a gas room and an electric room. It gives enough heat to keep a room warm. It has 1 year warranty.High quality ceramic tiles. Electric 3 heat setting 500W/1000W/1500W.100% safety shut-off control.Oxygen depletion.Heat proof plaiting.Infrared, fast heating energy saving...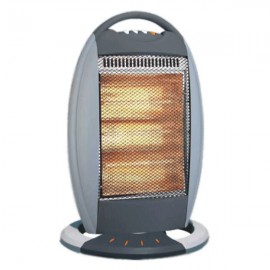 In the warm-up of small spaces, Room heaters are also known as space heaters. They can be taken anywhere you like and they are compact. CG brings you a radiative heater, the Halogen Heater Room. It operates on Halogen tubes, is an intelligent and lightweight heater. 3 heat adjustments: High performance 400/800/1200W. Save electricity.Specifications..
Showing 1 to 3 of 3 (1 Pages)